(

Christian Education Classes)
July - August
Sunday 9:00am Classes
The Basics I
In this class you will learn (or be reminded of) some essentials of the Christian faith and will discuss how to apply them to your life. If you are new to the faith or have never participated in a class, this is the place to start!  - with Marisa Opal - Room 100
How To Study The Bible
Many people struggle to understand the Bible and apply it to their lives. It may seem to you like there is a mysterious code or like only pastors or priests can understand it, but that's not the case. In How to Study the Bible, you will learn principles of biblical interpretation that you can use in your own Bible study with a particular emphasis on application. Recommended book: Journey into God's Word by Duvall & Hayes. This class will meet on July 7, 14, 21 and 28.  - with Sandra Mozdzanowski  - Room 103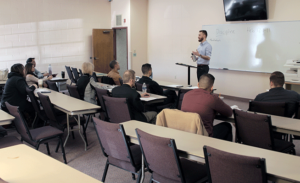 This I Believe
In This I Believe you will learn the most foundational beliefs of Christianity and the distinctive beliefs of this church, including the doctrines of salvation, the Holy Spirit, and the return of Jesus. It will help you grow in your knowledge of God, challenge you to study His Word, and help you see how these doctrines can be applied in your life. Bible Doctrines book is available through the Book Store. This class will meet August 4, 11, 18 and 25. - with Joel Lange - room 103
Married Couples:  Love Talk: Speak Each Other's Language Like You Never Have Before
Over and over couples consistently name 'improved communication' as the greatest need in their relation-ships. Love talk is a deep, yet simple plan full of insights that will revolutionize your marriage communication. The first steps to improving this single most important factor in any marriage are to identify your fear factors and determine your personal communication styles, and then learn how the two of you can best interact.Recommended book: Love Talk by Les and Leslie Parrott. Available in the Book Store.- with Matt & Rebekah Lane - in the Cafe.
If I Had Lunch With C.S. Lewis
C. S. Lewis was one of the most influential Christian authors of the 20th century. His books are still loved and celebrated by many. His insights into the meaning of life, temptation, love, pain and much more have brought comfort and increased understanding to many Christians over the last three generations. In this class, you will join Dr. Alister McGrath through his book If I had Lunch with C. S. Lewis as he imagines what it would be like to ask Lewis all of your pressing questions. Required book: If I had Lunch with C. S. Lewis by Alister McGrath.  Available in the Book Store.  - with Ken Smith - in Room 101
Sunday 11:00am Classes
The Basics II
In this class you will continue to learn, or be reminded of, some essentials of the Christian faith and will discuss how to apply them to your life.  - with Marie Jablonski - Room 100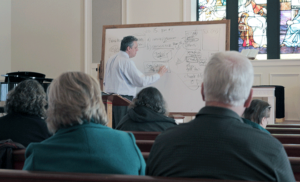 Ministry Gifts
This class is for those who have completed the Influence Discipleship responsibilities and qualifications of member-ship and will meet with the Spiritual Life Committee for membership approval. This class will meet on July 14 and July 21 - with Pastor Peter Patterson - Room 103
Wisdom for Life
God is our Father and He longs to hear from us. We were created for relationship with Him and He wants to communicate with us. That's what prayer is all about. In this practical class, you will discover what prayer is, how it works, and how to do it, or, how to improve your life of prayer. Required book: Prayer - What's the Big Deal? by Gregg Kretschmer - with Gregg Kretschmer - Chapel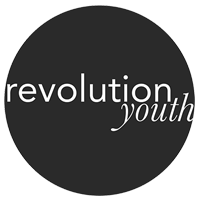 REVOLUTION YOUTH SUNDAY SCHOOL
Junior & Senior High School
Grades 7-12
Fireplace Room
Pastor Amanda Sunny
LIGHTHOUSE CHILDREN'S MINISTRIES
Nursery provided in all Sunday Services
CHILDREN'S SUNDAY SCHOOL
Age 3 – Room 301, Diane Parelli
Age 4 & Pre K 5 – Room 303, Bob & Linda Kyle
Kindergarten – Room 304, Edna Jenkins
1st Grade – Room 209, Pat Guay
2nd Grade – Room 207, Monica Hall
3rd Grade – Room 205, Sandi Conti & Katya Jemiolo
4th Grade – Room 104, Katie & Dima Vasilchenko
5th & 6th Grade Boys – Room 306, Lynda Anderson
5th & 6th Grade Girls – Room 308, Lori Bonk
ADDITIONAL CLASSES OR STUDIES
Tuesdays
HOUSE OF PRAYER - 9am
Men's intercessory prayer: "For my house will be called a house of prayer for all nations." Isaiah 56:7 - Room 100
HONORBOUND MEN'S BIBLE STUDY – 10am
Come join us for a cup of coffee and a trip through the Old Testament in a relaxed atmosphere.  – with Joel Lange in Room 101
Thursdays
CELEBRATE RECOVERY – 6:30 PM
This is a Christian twelve-step program for people who have hurts, habits and/or hang-ups. For more information, please stop by the Hospitality Counter in the main foyer. – Lighthouse auditorium.