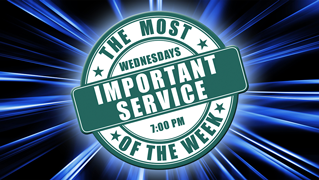 In-Person Wednesday Evening Services
Starting this Wednesday, June 17 at 7pm, our "Most Important Service of the Week" will now be open for in-person attendance!! NO registration required! We must still follow the same guidelines as we do during our Sunday services, by wearing masks, hand washing, and social distancing. We ask that you please arrive no more than 15 minutes prior to the service and follow the directions of our ushers for seating. We will also follow the same format as we have been online, since we will not be able to effectively social distance to hand out prayer cards and pray in groups. See you then!
Our next Live Stream broadcast starts in:
Please join us "LIVE" every Wednesday at 7:00 pm and Sunday mornings at 9:00 am and 11:00 am for inspirational messages from Pastor Stephen Thee, as well as many special guest speakers.
Greetings!  Thanks for visiting our website.  If you're searching for a great church, look no further.  Please click on the "Get Started" or "Plan A Visit" buttons to learn more about us, and even answer a few questions you may have.  If you've never visited Bethany before, please stop by this Sunday!  We would love to get to know you and show you around.  We look forward to meeting you!  God Bless!  –  Pastor Stephen