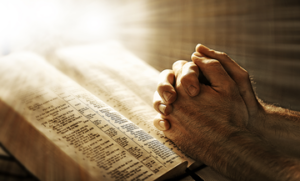 Bethany Assembly of God offers a number of bible studies during the week.
IN-TOUCH WOMEN'S BIBLE STUDY
Dear Ladies –  In need of some good news today? Get excited because we're bringing you a new ONLINE Bible study experience this February through Priscilla Shirer's Elijah!  For one low price, you'll get the Bible study book, video access, and entry to the online study community (complete with exclusive content from Priscilla herself).
ICYMI, Priscilla Shirer's new Bible study, Elijah, releases January 4, and we're counting down the days until it's here. But, we've been dreaming up something special with Priscilla that we couldn't wait any longer to tell you about!
Starting today, registration is open for the Elijah online Bible study experience, which will start Tuesday, February 16. This will be different from our typical online Bible study for a few reasons, so here's how this will work!
For the first time ever, you'll be able to purchase everything you need to study Elijah with us all in one bundle. Whether you want the print Bible study book or eBook to follow along, these $24.99 bundles come with:
Bible study book or eBook (your choice!)
Teaching video access, released weekly starting February 16
Online community discussions with the Going Beyond Ministries team and women around the world
Exclusive bonus content from Priscilla Shirer!
Already preordered your Bible study book? Don't worry! We're also offering an option to purchase just online video access for $9.99.
With the holidays right around the corner, you can also give the Elijah online Bible experience to your friends, family, or small group besties! You can give the Print Book + Video or Video Only options to a friend. (The eBook + video option is not available for gifting.) Check out our FAQs for step-by-step instructions on how to gift the online experience!
We're so excited to be able to study NEW Bible study content with you, Priscilla's Going Beyond Ministries team, and thousands of other women in 2021. We're already praying that the message of Elijah encourages and challenges us in the New Year!
Click HERE to start.
______________________________________________________________________________________________________________________________

HONORBOUND MEN'S BIBLE STUDY – Wednesdays – 10 am – cancelled until further notice.