At Bethany, membership is influence. Membership isn't just a certificate and it's not a way to earn good standing with God. Instead, membership provides opportunities for leadership in ministry and decision making. Membership includes certain responsibilities. So, membership is important, but commitment to Christ is it's foundation and priority. That's why some basic discipleship is a prerequisite for membership and why you need to start your membership journey in the Influence Discipleship Track (ID). 
Through ID, we influence you to follow Jesus by teaching you the basics of what it means to be a Christian and what we believe. We impart a hunger for Christ and teach you how to fill it through consistent spiritual growth. We begin to empower you by helping you identify the gifts God has given you. Then we release you into ministry in the church and in the Kingdom of God. 
ID consists of six classes: Basics I & II (Influence), Spiritual Growth & Evangelism (Impart), How to Study the Bible (Impart), This I Believe (Influence), Ministry Gifts (Empower & Release). These should be taken in consecutive order as they are offered on a rotational schedule. May God bless you as you begin this journey of discipleship and move toward greater influence for His Kingdom. 
The Influence Discipleship classes are offered on an annual rotating schedule, and can be found in the Influence Discipleship Track by clicking here.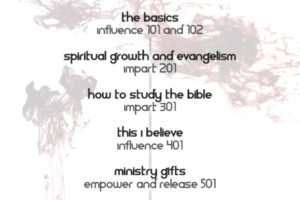 THE BASICS 1 & 2 – If you are new to Bethany, a new believer, or just want to begin your discipleship journey, this is where you need to start.You will learn (or be reminded of) some essentials of the Christian faith and discuss how to apply them to your life.  If you are new to the faith or have never participated in a class, this is the place to start!
SPIRITUAL GROWTH & EVANGELISM – You will learn to intentionally follow Christ by developing a spiritual growth plan. You will also learn to share your faith with others.
HOW TO STUDY THE BIBLE – Here you will learn to study, interpret, and apply the Bible for yourself.
THIS I BELIEVE – You will learn the most important beliefs of this church and discuss how they apply in your own real life situations.
MINISTRY GIFTS– Come to this class to identify the gifts that God has given you and put them to work serving Him and His people.
Pastor Franco Martinez – Influence Discipleship Pastor