The mission of HonorBound Men's ministry is growing Godly men through relational discipleship and the power of the Holy Spirit.
The vision of this ministry is to instruct and empower men to be a Godly influence in their families, the church and the community. The Godly man should become a better husband, father, son and citizen of the church and community. The Godly man should be an encourager, servant leader and minister within his spheres of influence.
HonorBound is not a program; it is a call to identify how men see themselves in Christ. Honor Bound men are:
• HonorBound to God "…that all may honor the Son just as they honor the Father. He who does not honor the Son does not honor the Father, who sent him." John 5:23
• HonorBound to their families "For God said, 'Honor your father and mother'…." Matthew 15:4
• HonorBound to those in need "Give proper recognition to those widows who are really in need." 1 Timothy 5:3
• HonorBound to those in spiritual authority "Give proper respect to everyone: Love the brotherhood of believers, fear God, honor the king." 1 Peter 2:17
In order to do this we reference Psalm 8 and it gives the three things a man needs to know to be a disciple:
• Know the God who created man.
• Know who God created man to be.
• Know what God created man to do.
To achieve this end several activities are planned:
• Monthly breakfast meetings or activities to encourage men to get involved in the ministry.
• Weekly bible study to instruct, encourage and empower men for ministry in their family, church and community.
• Encouraging and developing small bible study and accountability groups to help men become the godly men they were created to be.
• Periodic service projects for the church and the body of Christ to encourage men to put feet on their faith.
• Encouraging men to get more involved in the ministry of the church.
• Training for leadership, being a better husband, father and citizen.
Champions of Honor (Sundays @ 11:00am)
Tier 1 - for men who wish to become a Champion of Honor in the Biblical sense. This is the first phase of the journey to Biblical manhood. Men of all ages (13+) are encouraged to enlist.
Tier 2 - for men who have been commissioned from Tier 1. This tier propels men in their journey towards Biblical manhood. It encourages men to open up with their brothers in order to share their experiences, strengths, and struggles regarding their journey.
Tier 3 - for men who wish to draw deeper in the Word of God and learn what a true man of God is. Tier 3 runs consecutively with Tier 2.
Tier 4 - for men who feel drawn deeper in leadership and ministry. Tier 4 involves an in-depth study of God's Word, spiritual matters, and the discipling of self and others.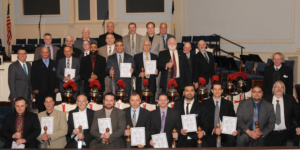 Men's Ministry Director – Rev. Gregg Kretschmer