Women's Ministry is a very broad term.
We know as unique as we are as women, so are our needs. Living in today's secular society poses many challenges to our ways of thinking, responding and reaching out to others. Bethany's Women's Ministry, under the name In Touch, represents the challenge to keep us in tune with God, with one another and with what is going on in our own lives. Am I accurately representing in my day to day living, the life of Christ? Do I respond with grace and God's character in my own home and in life's situations? When I miss the mark of God's calling, do I reach out and up for God's grace and do I show it to others when they fail?
Through sound Bible studies, refreshing events and conferences, we as women, with all our differences and flaws, can be the voice of reason and givers of God's peace to a hurting world. As we become grounded in God's Word, thirsty for more of Christ's reality in our everyday lives, we are becoming women of influence, for His purposes. "May the words of my mouth and the meditation of my heart be pleasing to you, O Lord, my rock and my redeemer." Psalm 19:14
In Him,
Pat Adams
Women's Ministry Director
2018 Women's Ministry Theme:
ON A VOYAGE "I trust in you, O Lord...My
times are in your hands". Psalm 31:14-15
Click here for more retreat details.
Ladies In-Touch Bible Study
The Tuesday morning and evening Ladies Bible study will resume on Tuesday, September 4th at 10 a.m. & 7 p.m. in the Fireplace Room with prayer in the Memorial Chapel at 9 a.m. We will be studying "No Other Gods" by Kelly Minter and workbooks are available for you to purchase yourself in our Bookstore, or online through Amazon or LifeWay.  Rev. Rebecca Keefe & Kathy Tisdell will lead the 9 AM and Gayle Gordon will lead the 7 PM class.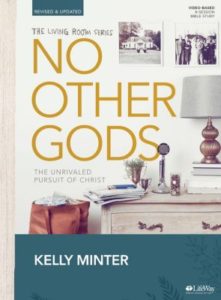 No Other Gods: The Unrivaled Pursuit of Christ includes fresh content, activities, recipes, and eight video teaching sessions. This study will challenge women to evaluate the modern-day idols in our culture and embrace a deeper, more meaningful relationship with Jesus.
Often, idols are obvious—money, power, fame. But subtler idols can sometimes take the form of sweet loved ones, Instagramable interiors, and busy seasons of ministry. But if your heart is prioritizing any of those pursuits before God, they are taking up space meant for Him alone. In this 8-session study, learn to identify the functional gods you are serving daily and the lies they tell. Only when you learn to dethrone modern-day idols can you pursue a deeper, more meaningful relationship with Jesus.
Benefits:
Stop wasting time on the temporal, false gods, and invest in the eternal, one true God.
Recognize the lies behind false gods, and learn to identify the Truth.
Dethrone your modern-day idols, and experience the abundant life in Christ.
Features:
Interactive teaching videos approximately 20-25 minutes in length per session
Leader helps to guide questions and discussions within small groups
Personal study segments with homework to complete between 8 weeks of group sessions
Recipes to help grow friendship and community within your small group
Pat Adams – Women's Ministry