Women's ministry exists to equip women to use their means of influence to advance the good news and bring glory to God. Women are empowered for the work of ministry through studying the Word together and connecting in community. We have each been given the manifestation of the Spirit and in various ways. Our desire is for each woman to use her gifts for service and for building up the body of Christ.
Weekly Bible Study: Women connect in community as they study the Word together, pray, and encourage one another. Each group is open to any woman, no matter her age or season of life. Studies are every Tuesday morning or evening.
Women's Breakfast: Women come together for breakfast several times a year. These are designed to unite the body of Christ and to focus on pertinent topics at Bethany. Women are refreshed and equipped by the Holy Spirit through fellowship and practical teaching.
Special Events: Other social events, such as retreats, conferences, simulcasts, and outreach opportunities are offered at various times throughout the year.
Andrea Thee
Women's Ministry Director
___________________________
WOMEN'S EVENTS
IN-TOUCH WOMEN'S BIBLE STUDY - 10 am & 7pm

Dear Ladies –  We're excited to announce our Ladies Bible Study have resumed every Tuesday. Both the morning and evening classes are studying The Patriarchs with Beth Moore, an 11-session journey through the book of Genesis. Workbooks are available online from LifeWay.com or Amazon.com and must be purchased on your own.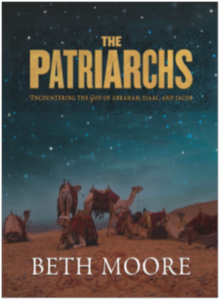 Please note that, due to the Coronavirus restrictions in Massachusetts, we'll be able to accommodate only 25 people in each class, so pre-registration is required. We will also have to comply with the social distancing guidelines and a mask must be worn by everyone while in the building. Also, no food or beverages are allowed.  We'll be meeting in the Chapel, please park in the front parking lot and use Door #1 near the offices.
If you'd like to participate, please register by going to our website at www.bethany-ag.org/events. Registration will open tomorrow, August 19th at 8 am.
We're looking forward to seeing you and studying God's Word together again!
__________________________________________________________________________________
WOMEN'S MOVIE NIGHT

Ladies, join us for an Outside Movie Night!  We'll be watching the movie "Overcomer" in the back of the building on Friday, September 25th, beginning at 7 pm.  Bring a lawn-chair or a blanket, along with your own snacks, and enjoy this encouraging film with your girlfriends, daughters, sisters, moms.  There is no cost for this event, but we ask that you pre-register online.
2nd SHOWING

Our Friday, September 25th showing of "Overcomer" is full, however, we're offering a 2nd viewing on Friday, Oct 2 at 7pm.  Please pre-register to attend.
Andrea Thee – Women's Ministry